We Are Retired!
Thank you all of Our Wonderful Customers.
It Has Been an Honor to Share Our Drums with You
Built in USA by a Native American Drum Maker
All Drums Built from Recycled Lumber: No New Trees Died
A Green Family-Owned Company Founded in 2000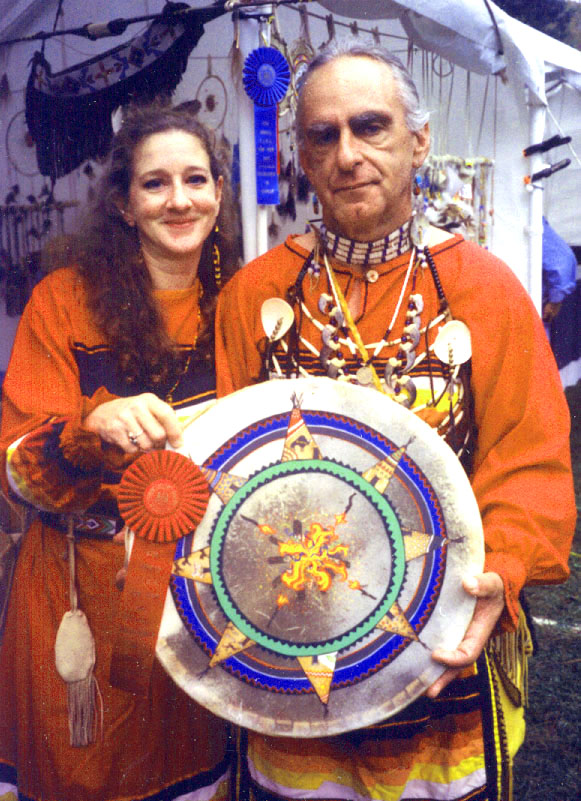 Keith and Cheryl
Powwow Vendors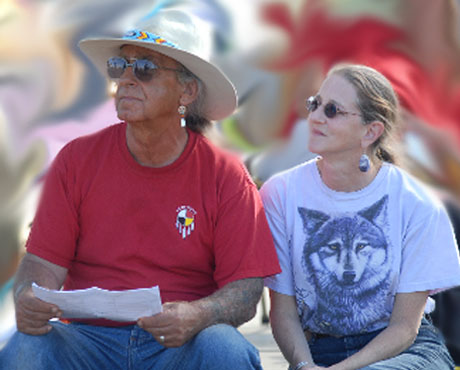 Keith and Cheryl Sponsoring
Hand Drum Competition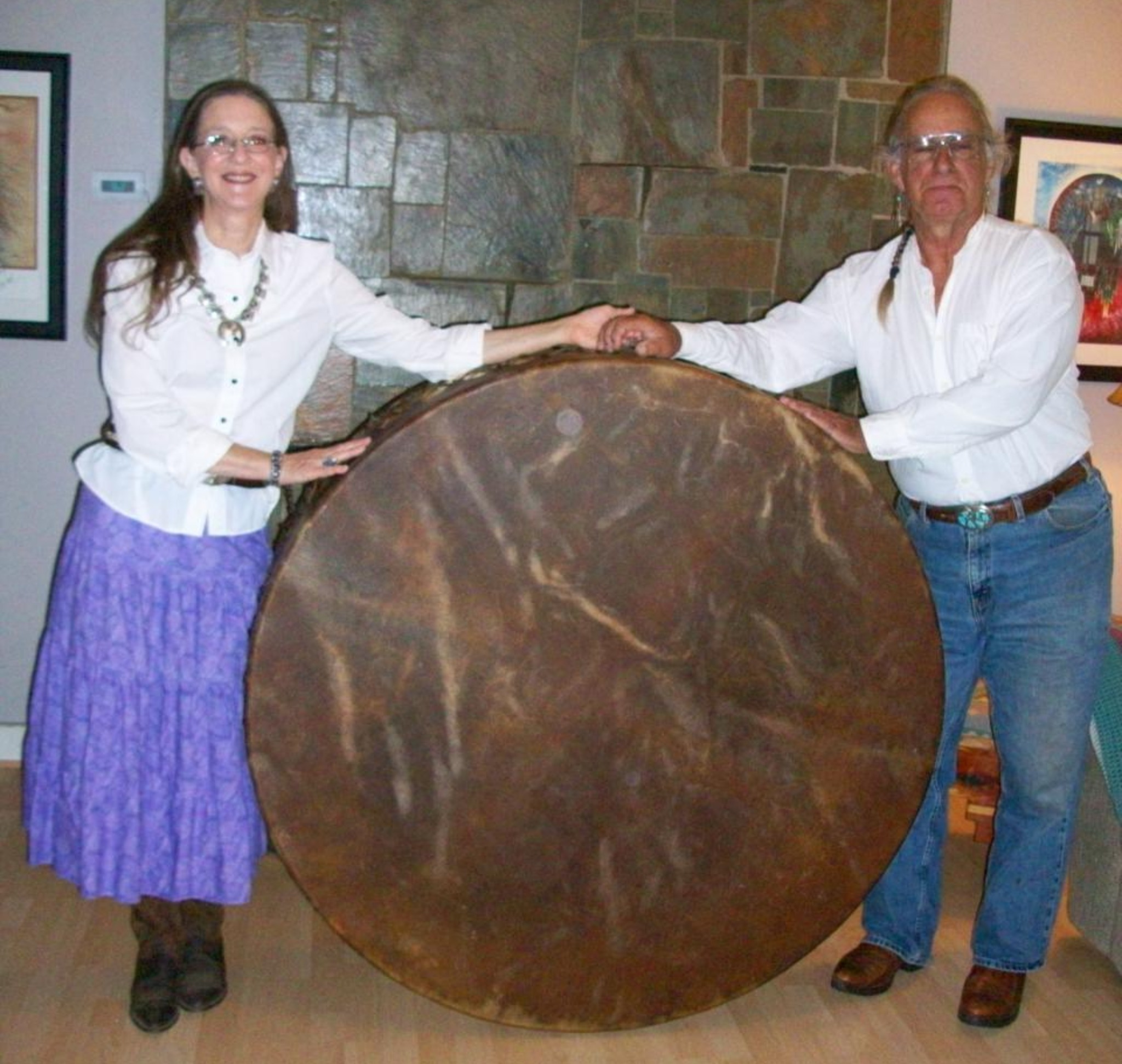 Keith and Cheryl with Largest Powwow Drum ever built by The Drum People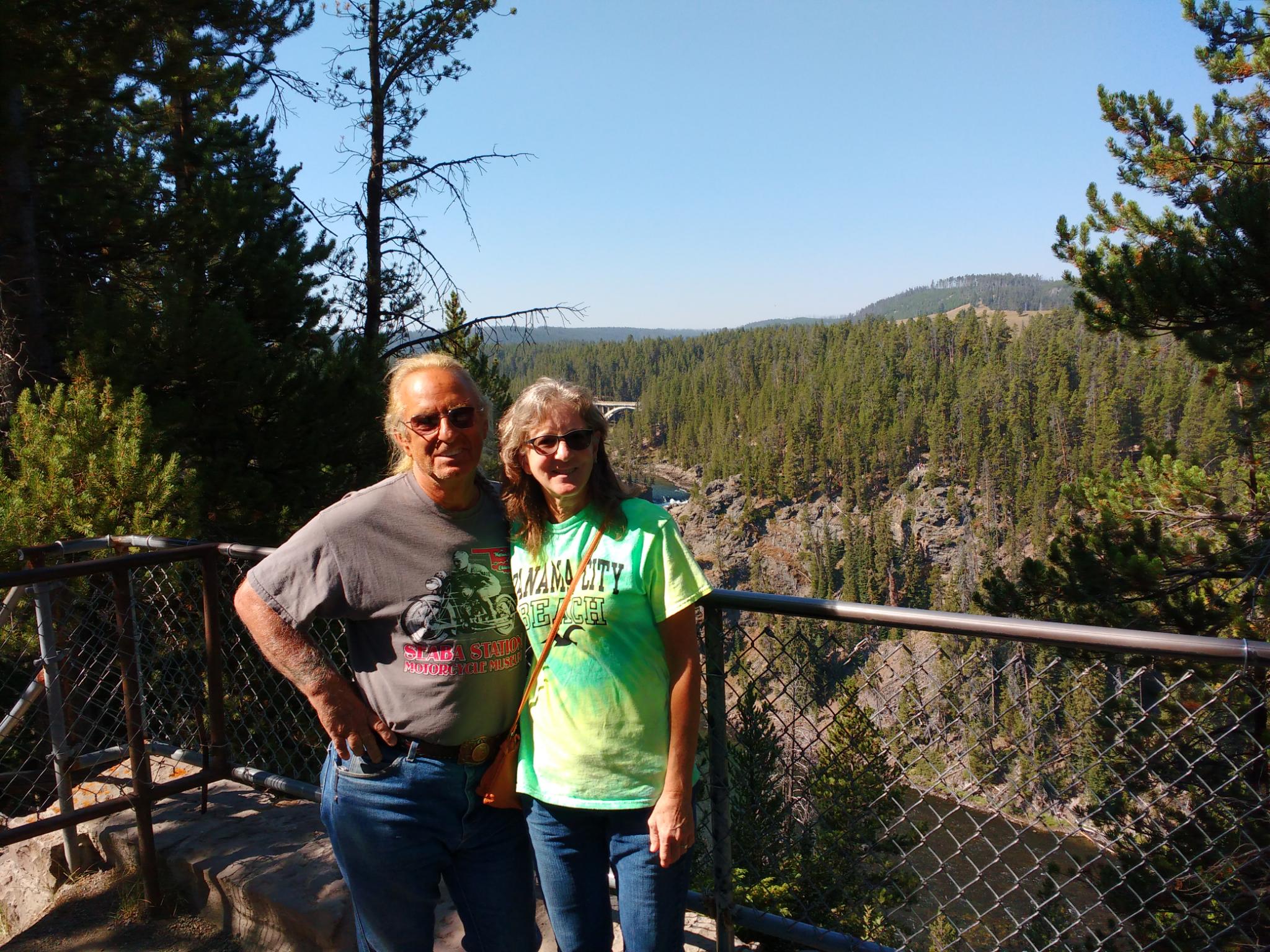 Keith and Cheryl visiting son and family in the Black Hills of South Dakota
Why Buy a Drum From Us?
First We are committed to the EARTH

We build our Native American drums using Green, Ecological methods.
We do not cut down any trees. Our rawhide does not poison the earth with chemicals.
Second, Customer Service #1 Priority
We answer your questions.
We want to learn your stories and share our story with you.
Every hand drum is unique. We play the drums for you to help you find the exact drum that speaks to you. We don't just sell you any old drum.

We describe the appearance of your rawhide drum head.
We send you the exact same drum that that you heard.

W

e take time for you.


Th
ir
d, our drums are authentic, built by a Native American Drum Maker in a Traditional and Spiritual Way.

Keith Builds every hand drum, powwow drum and sweat lodge hull from recycled cedar in our shop.. WE DO NOT USE MASS PRODUCED PRE-FABRICATED DRUM HULLS, which may not even been made in the USA!


Keith's Hand Drums are secured with 30 OR MORE LACES to keep rawhide head totally tight. Our rawhide heads will never slip.
Keith use rawhide laces on all Native Drums, WE DO NOT USE SINEW LACES, which once stretched leaves your drum head forever loose and flat sounding.


Do you want to buy an authentic Native American Drum? Keith signs every drum and provides a Letter of Authenticity. Other drum makers sell "Native Style" drums and are NOT Native American at all.
Every week we receive calls from drum owners who have purchased drums some other company. They have No One to answer their questions. Sometimes they want to know if their drum is authentic: they have no idea who made their drum. Other times, their drum sounds terrible and they can't get the company to repair or replace their drum. Ultimately these folks scrap the cheap drum and buy a new authentic Native American Hand Drum from us. Unlike non-Native companies, we place customers first!



We are Tree-huggers. We Respect Mother Earth. We ask you to become a partner in our stewardship efforts. We believe that Native American Drums should be sacred instruments - from their construction in Keith's hands, to resting in Your hands, where they will carry your songs and prayers to Creator.
How Does Keith Little Badger Builds His Drums?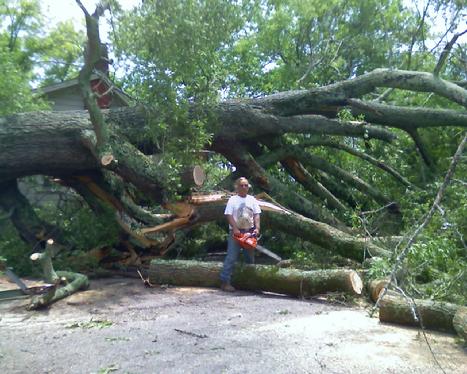 Keith Little Badger harvests lumber from tornadoes (AL : 2011 and 2018)
and storms
He does not use
Pre-Fabricated Drum Hulls.
He builds all of his Native American Drums from Recycled Lumber.
NO NEW TREES DIED!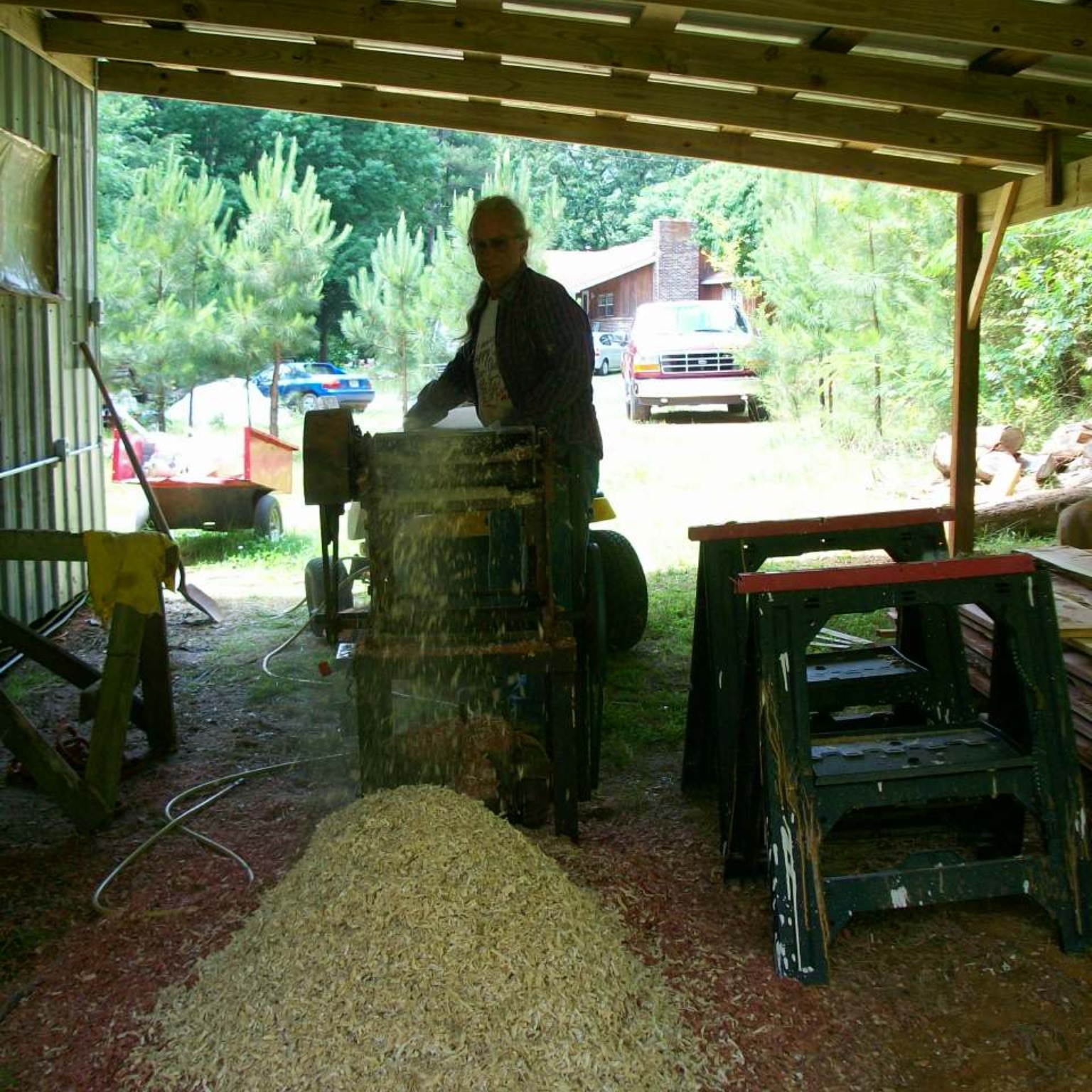 Keith Little Badger takes his logs to a small local saw mill to cut his boards to uniform thickness. The boards dry in his planer shed. Then Keith planes them to uniform thickness.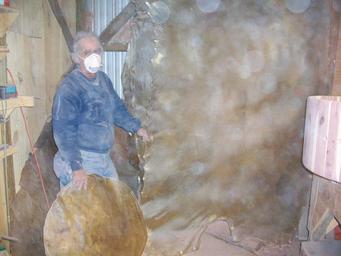 When Building Native American Drums, Keith Little Badger cuts both Drum Heads and Lace from Whole Bull hide, which is processed in an ecological way by an EPA Approved Tannery.
We do not bleach or dye the hides as this will weaken them. Our hides are air-dried because electric dyers also weaken the hide.
These natural Bull hides provide thick hide for Powwow Drums and thinner hide for Hand Drums. Each drum head is unique!
We use the scraps to make lace for the drums and our rawhide rattles.
WE WASTE NOTHING!
Our Philosophy about Rawhide We Use Domestic Cow Bull Hide on our Drums. We have spiritual beliefs that prevent us from using wildlife. Please visit websites below to understand our Philosophy. Thank you.

We are committed to promoting
Native American culture.
Making drums is not a job, it is a CALLING for us.
but it also a healing tool.
We have donated or discounted drums to schools to help children learn about the REAL Indigenous People of this country, rather than allowing them to learn only from the biased stereotypes of "Indians" portrayed on television and in movies.

We have sponsored cultural events, like Hand Drum Competitions, to showcase the talent of Native American singers and drummers. We hope to educate the public about the Indigenous People and Culture of the United States by supporting the beauty of their traditions and songs.

We partner with groups of caring people who have found creative ways to use drumming to improve the health and quality of life of our Elders, and for people with diseases like Autism and Alzheimer disease.

We have helped sponsor Native American Powwow Drum Teams so that they can play at powwows and share this wonderful culture with the public.

We have donated drums to Drug and Alcohol Counseling Centers.

We have donated or discounted drums to Native Americans in prison so that they can practice their spiritual ceremonies. By doing this, we hope that Creator will guide them back to the good Red Road.

We have donated drums and our time to help build homes for victims of tornadoes, hurricanes and floods.

We volunteer in our community, at local food pantry, picking up trash on the side of our roads, removing downed trees from our neighbors' yards, and donating firewood.

We give presentations on Native American Spirituality at local churches.

We partner with wildlife rescue efforts, donating drums or giving discounts to horse rescue centers and support Wildlife Rescue Centers.
We Are People Who Want to Change the World. Change it with us!
FELT CONFIDENT BUYING DRUM FROM INTERNET
I just got my 18" special cottonwood drum. I, like many, I am cautious about buying, particularly over the internet. Cheryl played various drum over the phone and I chose this one. As well, I could tell from the thoroughness of their web site, and the questions they rose and answered, that it was very likely I had finally found the "real deal". Of course, it is very difficult to buy such a precious item as a drum over the internet. I could not be more impressed with the sound, the make, and the beauty of this drum. Thank you so much- Mary Paige Snell
A PERSONAL EXPERIENCE BUYING MY DRUMS
Boozhoo Cheryl and Keith! Received our 3 Grandfather drums within two days of shipping. Husband, Dean, caught the mail that day and hasn't stopped smiling since. We are honored to have our drums knowing where they came from and the beautiful music we share with others now as well as our private times. Miigwetch Cheryl for giving your time to talk with me on the phone making this a more personal experience. We are forever blessed. Stop in whenever your in Manistee, MI. Aho! Julie Martz

Pharma Megadeals Pass First Checkup best steroid sites anabolic frolic @ hullabaloo 11 - birthday funtopia 2 | liveset database
TALKED TO CHERYL WHO ANSWERED MY QUESTIONS
Dear Keith and Cheryl, It was a delight speaking with you both. Keith, you were so helpful with my drum selection, a 14" cedar hand drum. I was so pleased that you took 30 minutes from your day to share the ins and outs of drum construction, rims, hides, and consistency of tone. I also enjoyed sharing a little of your life. Cheryl, I really enjoyed speaking with you the next day while confirming the order. It was a great conversation. All in all, it was wonderful customer service added to a very fine product. The drum is a beauty. It seems we have a lot in common. We at Go Guitars also believe that a fine product is complimented by fine customer service. The drum is very well constructed and the tone is all I could ask for. The skin is both quite well stretched and pleasing to the eye. I could not be happier with both the process and product. Thank You for a wonderful drum. Jean Brosius

DRUM FOR MUSIC THERAPY STUDENTS
Thanks to Cheryl and Keith for the beautiful gathering drum and for the generosity of your discount. The music therapy students will be using the drum continuously with clients in assisted living centers, special education classrooms, and hospice settings. The drum has a wonderful sound, and will help connect people who otherwise often feel lost and alone. All the Best, Nicki Cohen

Keith Little Badger is in full compliance with The Indian Arts and Crafts Act of 1990. This Act protects Native American Artisans. All products must be marketed truthfully regarding the Indian heritage and tribal affiliation of the producers, so as not to mislead the consumer.