We Are Retired!
Thank you all of Our Loyal Customers
It Has Been an Honor to Share Our Drums with You.
Continue to Sing Your Songs to Creator
NATIVE AMERICAN SWEAT LODGE DRUMS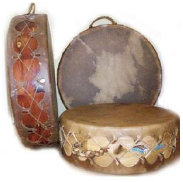 Sizes & Prices


All Drums Are 6" high, the diameter varies. All come with
FREE DRUM STICK.
Red Cedar
14" Diameter - $240.00
16" Diameter - $260.00
18" Diameter - $300.00
King's Pine
14" Diameter - $250.00
16" Diameter - $270.00
18" Diameter - $310.00
Be sure to take into account the size of your lodge and the number of people participating. One time a friend brought a 20" drum to Lodge and he and his drum sat on one side the rest of us crammed into the opposite side.
Sings All Four Rounds
Our Double sided sweat lodge drums withstand the intense humidity of the Inipi Ceremony.
The Two-Sided Design traps hot air inside the drum, which keeps the rawhide drum heads warm and singing.
We recommend our Double-Sided lodge drum if you are going to bring your drum into a sweat lodge. We have found that single sided hand drums get soaked with humidity front and back, causing the drum to sound flat.
Keep Reading . . .
See what Our Customers say about their sweat lodge drums built by Keith Little Badger
If you want a drum that comes ready for use in sacred ceremony, then you've found the place to get one. Over the past year, I have purchased 3 from Keith and Cheryl; two 18" lodge drums and a 28" pow wow drum (a lodge drum for me and the others for wopila). I never dreamed of purchasing so many drums, but after taking my first one into ceremony and experiencing it "coming to life" on sacred ground, its amazing tonal quality and exquisite beauty and craftsmanship, I knew right away these drums are special and suitable for some very special gifts I had been considering. Recently, I had Cheryl make a padded drum case for my lodge drum. It's more beautiful than I imagined it would be! These are good people doing their work in a sacred way to help all of us as we walk our spirit paths, so lets support them in their work; buy a drum now. Erroll
LODGE DRUM KEEPS ON SINGING
I just wanted to pass on to you, Cheryl & Keith, how happy I am with my inipi (sweat lodge) drum. Last weekend my husband and two others did vision quests (hamblecha) and my new drum was great. I drummed in inipi for a 2 door lodge on the first day and then that evening I drummed for the people on the hill. The second day, I drummed in inipi for a 2 door lodge and then for a 4 door lodge. Also drummed in the morning and evening for the people on the hill. On the 3rd day, I drummed in the morning and evening for the people on the hill. On the 4th day, when we brought them off the hill, I used the drum in a 2 door lodge. My drum was so great and sounded so good. I received many compliments on the sound and the fact that it sounded good even on the last day after so much use. Thank you for all that you do and your great drums. This is our 4th drum from you all and we love them all! Nancy McQuarrie

KEPT ITS VOICE FOR ALL FOUR ROUNDS
I was gifted with a 18 inch inipi ceremonial drum (sweat lodge) and after sweating it , I have to say that it lasted all four rounds without the slightest crack in its voice. It's deep tone thumped the lodge with healing thunder. Great craftsmanship and overall appearance, but it's all about its sound. Built in a good way with recycled cedar making Ma Ma Earth proud. And hand picked sage from the hills too? Unbelievable. Thank you so much Cheryl and Keith. I will honor this drum forever... Sam

GREAT FOLKS: CHERYL & KEITH
I ordered a 16 inch cedar sweat lodge for the lodge here at SpirIt Creek. I found the whole experience of ordering the drum really rewarding. It is great to know that folks like Cheryl and Keith are out there. The drum is wonderful and has a beautiful voice. I will pray with this drum for all my days...Aho! Walter 3 Bears


Keith Little Badger is in full compliance with The Indian Arts and Crafts Act of 1990. This Act protects Native American Artisans. All products must be marketed truthfully regarding the Indian heritage and tribal affiliation of the producers, so as not to mislead the consumer. 
Inipi (Sweat Lodge) Traditions
Nearly every tribe performed a purification ceremony, which most passed from generation to generation orally. The most publicized of these is the Lakota Sweat Lodge ceremony. Black Elk explained the ceremony to Joseph Epps Brown in his book The Sacred Pipe, which details the seven sacred ceremonies of the Lakota People. Because the Lakota sweat lodge has been studied extensively, many people have come to believe that the Lakota way is the only correct sweat lodge. This is not true. Other nations practice variations of the sweat lodge.

In the Inipi or sweat lodge ceremony, people come together in spiritual community to pray. Preparations are extensive and vary from one Native subculture to another. But all involve the sacred elements of fire, water, air, and earth. A lodge is built, typically of willow branches, and then covered with wool blankets (traditionally skins and hides). A fire is built, and stones are placed in the fire for purification.

As the stones heat to red-hot temperature, the people make prayer ties and other preparations to enter the lodge. A fire-keeper tends the stones. Helpers place the blankets on the lodge frame. The lodge leader smudges the sweat lodge and everyone present. Pipe carriers load their pipes.

Once sweat lodge ceremony begins, songs are song to welcome Creator, the Spirits and all our Relations. The fire keeper brings rocks which are placed in a pit in the center of the lodge. The blanket door is closed to form a sacred circle enclosure. Water is poured over the rocks and steam rises. The purpose of the sweat lodge is prayer, spiritual community and purification.


We are all related. What happens to one of us
will inevitably impact another and then another of us.
WE ARE ALL RELATED.
That is one of the messages of the Inipi.
WE ARE ALL RELATED.