We Are Retired!
Thank you all of our loyal customers.
NATIVE AMERICAN STYLE DRUM BAGS
Unique Custom Made Bags to Carry Your Special Hand Drum
Why Are Our Bags Special?
You Design your custom hand drum bag.
Our drum bags are Unique and Classy. Make a Statement!

These custom bags are fabric, NOT polyester.
You can choose from a huge selection of Native American Style fabrics to customize your bag.
Leather fringe sways as you walk. It is soft deer hide.
Antler button closure is sort of "fancy organic".
Extremely Padded Shoulder Strap will not dig into your shoulder like a nylon strap.
Most Important, drum bags you buy from The Drum People are made in the USA, by hand, not in some unknown factory.
Design Your Unique Bag
Call 256-538-0246 and work

out details with Cheryl

Select Type & Size of Bag

Pick your Background Color

Choose your Accent Fabric

Provide your Measurements

f

or Exact Fit.




Add an Applique
NOTE: ALL APPLIQUES COST EXTRA Small Embroidered appliques $10.00. Custom Designed Appliques depend upon complexity.


Drum Bag Sizes & Prices
We make three styles of drum bags. All have a pocket for your drum stick. We ask for your measurements to customize fit to you. All Bags have a heavily padded shoulder strap for your comfort. All drum bags have reinforced bottom to support your hand drum.
Basic

- Leather tie top

Enhanced

- Protective Front

Flap, Leather Fringe, Antler

Button Closure

Padded & Lined

- All the

features of Enhanced but

entire bag padded for more

safety
Fits 11 - 12" Hand Drum
Basic - $80.00
Enhanced - $95.00
Padded - $110.00
Fits 13" - 14" Hand Drum
Basic - $100.00
Enhanced - $115.00
Padded - $130.00 *
Fits 15" - 16" Hand Drum
Basic - $115.00
Enhanced - $125.00
Padded - $140.00 *
Call for prices on 18" bags.
* Add a Kangaroo padded pocket under protective flap to store rattles, keys, sage, drum stick... Choose 2 or 3 panel pockets. Available only on 14-18" padded bags. $50.00 extra

Kangaroo Pocket is padded to protect your possessions.
Examples of Custom Drum Bags Sewn by Cheryl
Click to Enlarge Images
Red Drum Bag Aztec Accent
and Butterfly Applique

Blue Padded Drum Bag with
Canyon Accent Fabric
Sage Basic Drum Bag with
Zuni Basket Accent Fabric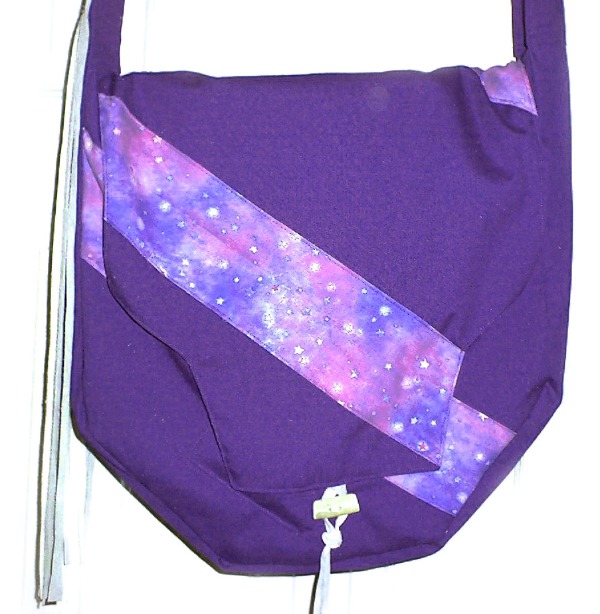 Purple Enhanced Drum Bag with Stars
Purple Irises Padded Drum Bag
Zuni Jewelry on Blue Basic Drum Bag
Burnt Orange with Native Pattern
Enhanced Drum Bag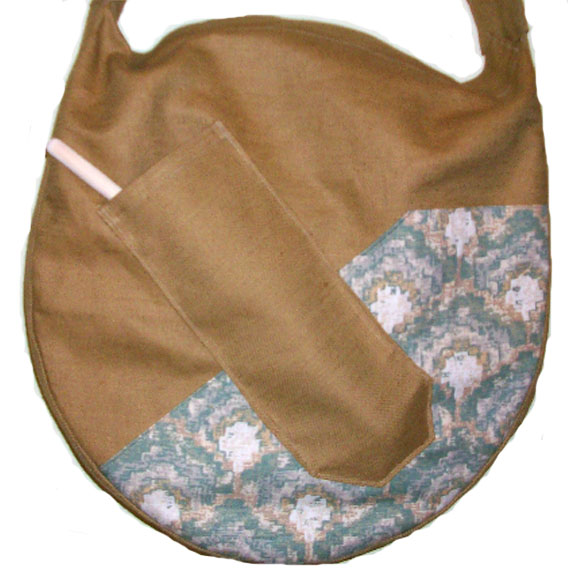 Tan with Adobe Accent Basic Drum Bag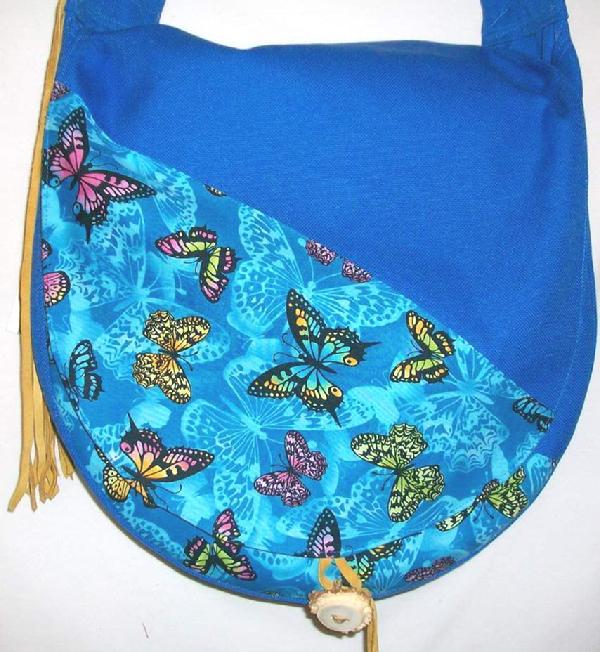 Royal Blue Enhanced Drum Bag with
Butterfly Accent Fabric
Brick Red padded drum bag with custom applique requested by customer
Enhanced Drum Bag Medium Brown with Woodlands Accent
Carhardt Gold with Teal/Brown Native Accent, Buffalo Applique
Drum Bags with Custom Appliques Designed by Customers:
Click to Enlarge Images
Hunter Green Padded Drum Bag with Custom Medicine Wheel Applique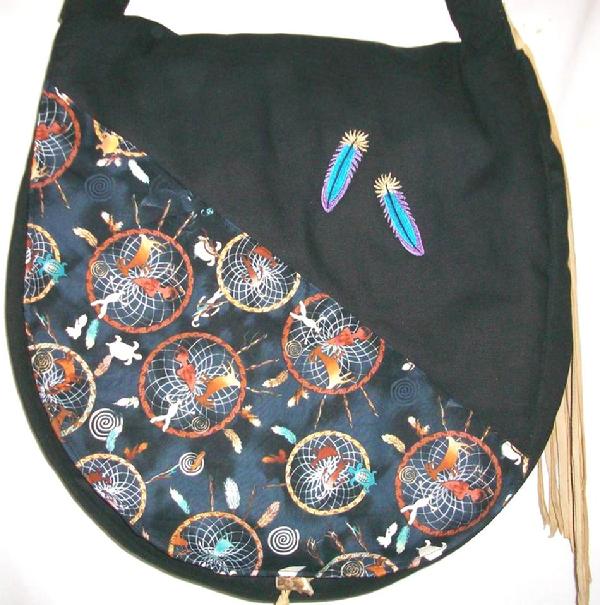 Black Padded Drum Bag with
Dream Catcher Accent Fabric and Custom Feather Appliques
Ken's Custom Appliques
Padded Drum Bag
Black, Teal and Purple with
Bears & Star Custom Appliques
Padded Drum Bag
HERE'S WHAT FOLKS SAY ABOUT THEIR CUSTOM HAND DRUM BAGS
MY DRUM BAG IS A WORK OF ART!


I love my drum and the bag is a work of art, too!!!!! The colors, the designs really capture so much of the "southwest" Tribes I so love. The colors really are perfect and the way you designed them creates a real sense of balance and harmony, the print with its turquoise, reds and blacks stands out so beautifully against the dark brown background. And the fringe color adds a color note that picks up the background color in the print. Honestly, Cheryl you picked just the right one for me!! Elizabeth I. Lumbee Nation.

VERY POSITIVE EXPERIENCE ORDERING!
Dear Keith and Cheryl, I just received my drum bag for my hand drum. Cheryl, this bag is absolutely beautiful. You did a wonderful job and I could not be more pleased. On top of that, the bag was delivered much sooner than expected. The entire process of ordering the bag has been a very positive one. From discussing the specifications with you over the phone, the timeliness of delivery and then the quality and beauty of the bag itself. Thank you so much and may Creator's blessings continue to fall on you. Terry Hackett

MY DRUM BAG MAKES A STATEMENT!
Thank you. Thank-you. The drum bag is beautiful. It will make my life easier and the colors are beautiful. I am very Impressed and I would highly recommend u to anyone who needs a bag to keep their lives in It really makes a statement and brightens up my room also. Thank-you. Thank-you. Thank -you. Linda Ponder. From Cedar Rapids. Iowa.
EXPRESSIVE CUSTOM DRUM BAG!
Received my 16" cedar hand drum in November and ordered a custom bag immediately after. The drum continues to amaze me - such beauty of craftsmanship and so much to say in a single beat. The custom drum bag is beautiful, expressive, and a joy to experience. They deserve each other. Thank you both for such spirited work and the pleasure of doing business with you. Catherine Summers

Cheryl is NOT Native American. These drum bags are "NATIVE STYLE" to comply with Indian Arts and Crafts of 1990, which requires truth in advertising.